Back to Projects List
Key Investigators
Pietro Nardelli (Brigham and Women's Hospital, Harvard Medical School, USA)
Jorge Onieva Onieva (Brigham and Women's Hospital, Harvard Medical School, USA)
Raúl San José Estépar (Brigham and Women's Hospital, Harvard Medical School, USA)
Project Description
The goal of this project is to create a new tool for SlicerCIP that allows the creation of a PDF report to summarize and illustrate quantitive analysis.
SlicerCIP is an extension to Slicer that integrates:
CIP functionality as a Toolkit exposing of the CLIs.
Slicer specific modules to provide user-friendly chest CT quantitative solutions.
Visualization of scale-space particles and labelmaps
Integrated workflows to end-to-end clinical evaluation
Slicer CIP has been conceived as a workstation for radiologists, but is also suitable for any kind of researchers working on lung, heart or vascular diseases.
Objective
Extend and generalize last year report tool to be used in all SlicerCIP modules.
Approach and Plan
Implement a general HTML template for quantitative analysis report
Implement a new module that fills the HTML with images and data
Add in each SlicerCIP moule a link to the quantitative analysis report
Progress and Next Steps
General HTML template generated
Each SlicerCIP module have now a link to create a personalized quantitative analysis report
Illustrations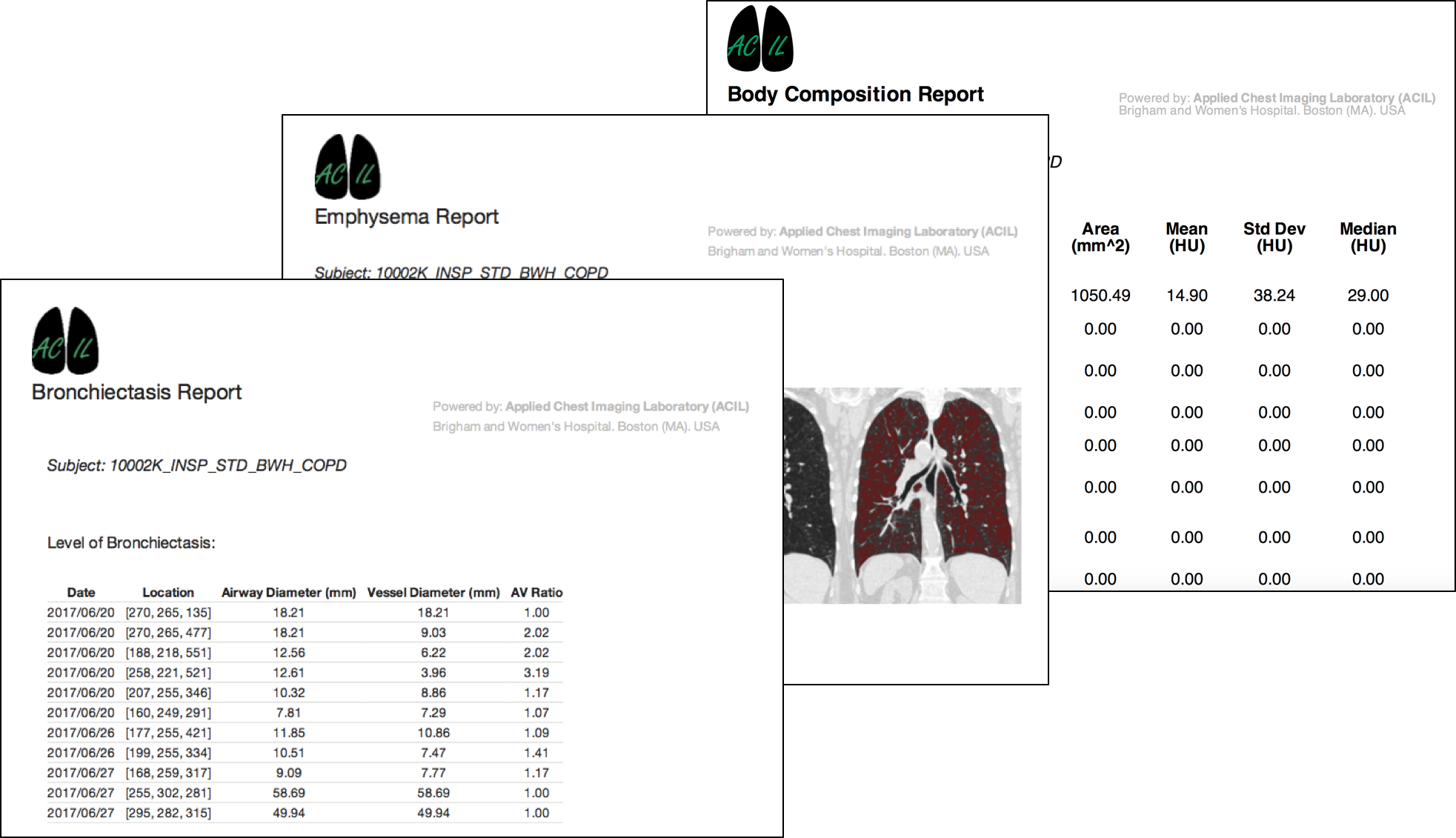 Background and References
Source code: https://github.com/acil-bwh/SlicerCIP
Artery-Vein Classification using Deep-Learning: Nardelli P, Jimenez-Carretero D, Bermejo-Pelaez D, Washko GR, Rahaghi FN, Ledesma-Carbayo MJ, Estépar RS. Pulmonary Artery-Vein Classification in CT Images Using Deep Learning. IEEE Transactions on Medical Imaging.