Edit this page
Back to Projects List
ROS-IGTL-Bridge Video Streaming
Key Investigators
Junichi Tokuda (BWH)
Longquan Chen (BWH)
Project Description
Objective
Integrate compressed video streaming in ROS-IGTL-Bridge
Approach and Plan
Define ROS topic for video streaming
Compile ROS-IGTL-Bridge with the latest OpenIGTLink with compressed video streaming feature.
Progress and Next Steps
Progress
Solved a build error for OpenIGTLink in the Linux environment. See GitHub Issue Tracker.
Tested OpenIGTLink with VP9 support on Linux.
Added VP9 support in ROS-IGTL-Bridge
Install video_stream_opencv module
Install new OpenIGTLinkIF module with IGSIO integration. This adds compressed video streaming support in 3D Slicer.
Tested video streaming from ROS-IGTL-Bridge to 3D Slicer using Virtual Box.
Next Steps
Support more video formats (only BGR8 is supported currently) and codecs (e.g. AV1, H.265)
ROS topic to subscribe should be configurable. Currently it is hard-coded in the C++ source file.
Illustrations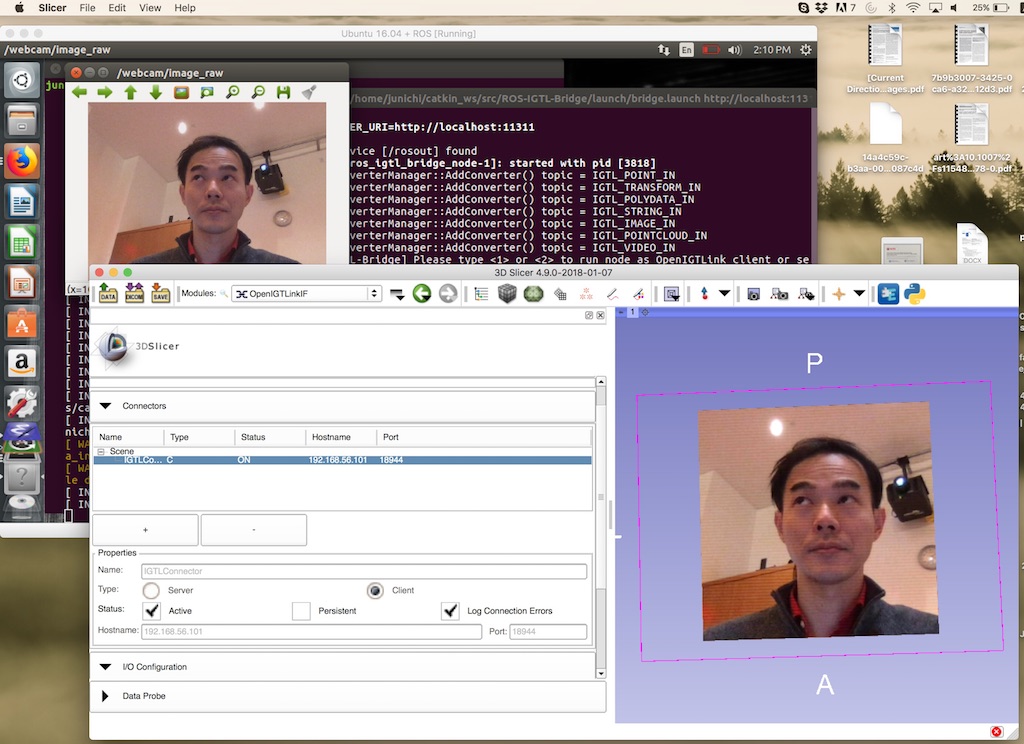 ##Instructions:
Download ROS-IGTL-Bridge from the CompressedVideoStreaming branch.
Install video_stream_opencv module in ROS.
Edit line 55 in ROS-IGTL-Bridge/src/ros_igtl_bridge.cpp and replace "IGTL_VIDEO_OUT" with "/webcom/image_raw".
Start video_stream_opencv module by calling "roslaunch video_stream_opencv webcam.launch"
Start ROS-IGTL-Bridge by calling "roslaunch ros_igtl_bridge bridge.launch". Configure it as a server.
Start 3D Slicer, open OpenIGTLinkIF module, and connect to the ROS-IGTL-Bridge as a client.
Background and References